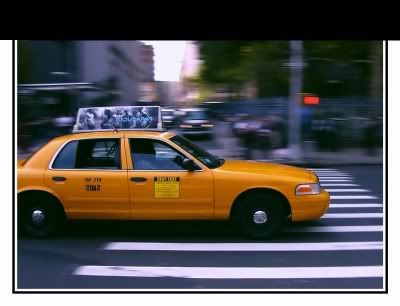 It was a rainy Tuesday morning. I was running late. I needed to get to the office on time. I hailed a cab.
As soon as I got in, I noticed a pleasant looking old man was taking over the wheel. He let out a big smile and I smiled back. I rode the cab with three others. Normally I would have taken out my i-pod and stick the earphones in my ears and click on my "on-the-road" playlist. But this time I was intrigued by the driver. I'm not much of a talker that early in the morning and I don't usually engage in conversations with total strangers (a habit my mom and dad taught me early on in life ). But I was, I guess, awed.
At first they were talking politics, a topic I am not particularly keen on. And then they talked about how expensive gasoline is nowadays. And then the talk veered towards family. I was not a participant to the conversation, I was just listening. I was taking in what the old man was saying.
He said when he was much much younger he worked his butt off just to ensure that all his five children got good education. Not having finished any formal education himself he wanted more for his children. He said it was more of a mission for him and his wife. He goes on to say, "When you take good care of your children and ensure that they have a good future ahead of them, you have somehow ensured your retirement." I was a little skeptical about that. He continued on, "All my children are now professionals they have families of their own but they have good jobs. And each time they visit me, they thank me for giving them a future." Wow! I thought to myself. "Now, I drive just to pass the time. It gets a little boring when you're done doing the "big" stuff."
"Discipline," he says "has a lot to do with it. Being proud of what you do and doing it with honesty and dignity. Nowadays, there are a lot of things that keep the family apart. Television, computers, cellphones, games. When I was younger", he says, "we only had books and our family to keep us busy. Focus on more important things, that was what it taught me", he says. Then I saw him look at me through the rearview mirrow, "You know, work is just work...a means to make a life. Don't let it rule your life." Our eyes met and I thought those words were meant for me and for me only. Gosh! Was I that transparent?
We arrived at the office. We paid the driver and gave a good tip. For the words of wisdom he imparted. =) I know I heard or read those words before but somehow having it delivered that way makes a lot of difference. That was some taxi ride don't you think?
We are one big family of people, trying to make our way through the unfolding puzzle of life. We are all connected to one another in the heart. Connecting with the ultimate source of love is possible through discovering the hidden power in your heart. ~
Sara Paddison, Hidden Power of the Heart