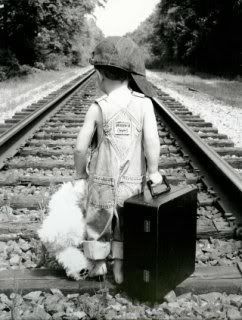 When I was a child my family travelled a lot. My mom and dad would always have something planned for the weekend. Mostly we go to the beach, but we also go to parks, hot springs or visit my cousins.
I remember how I would always be impatient to reach our destination. I would be jumping up and down at the back seat with my brother and sister, asking my mom and dad, "are we there yet?" To pacify us they would make us count up to a thousand or they would come up with a contest, the person who reads all street signs would get a prize! Since my mind is so concentrated on what I'll do when I get there, I missed seeing the beautiful fields, the enchanting cottages and the cute stray animals along the way.
Nowadays, when we are travelling whether by road, by sea or by air I would make it a point to enjoy the scenery before me. I would breathe in the fresh air and drink in the beauty spread out before me. Now I realize it's not so much as the destination but what the journey has in store for me.=)
L
ife isn't just about getting to the destination...
The journey is the important part, what you take time for, the people you influence, and what you learn and experience along the way.
… it's about the journey.
The journey is also where you find God
and where you learn about Him.
Things in life aren't random and they don't happen by accident. There is a wonderful plan at work that runs deeper than you know.
God's force flows through life, affecting your personal destiny, and the destiny of the world you live in.
Don't fall for the "big bang" lies that there is no purpose and no reason and you don't seem to be getting anywhere.
His plan is on schedule and things are happening exactly when and where He knows they should. There is a reason for everything.
And You Can Make A Difference!
You are under God's care
in this journey through life
and He loves you…
His love for you cannot be measured, contained, explained, understood, compared, or seen.
It must just be accepted for what it is…
REMEMBER...
...the purest, truest love
you will ever know.
…So don't rush through life putting aside your time with God or enjoying your family and friends otherwise you will miss the whole point, and all that you accomplish and go through will be for naught.
Make the most of your journey by learning about Him, loving Him, seeking Him, discovering Him and helping those around you. Before you know it, you'll have arrived at your final stop…
...and He'll be there
waiting for you.

Have a safe journey everyone, hope one of these days our roads will cross.