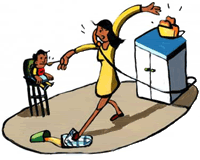 Last night when I was finally able to put my feet up and lay my head in my pillow, I did a quick re-cap of my life as a working mom. And I cannot help but visualize myself as a juggler.

It is only on weekends that I get to have some down time and just concentrate on being a mom, a wife and err a blogger. LOL! While we were cleaning the room and arranging books into two new bookshelves we bought to organize the kid's library, I came across this January 23, 2006 issue of the Time Magazine. The topic caught my eye, "How To Sharpen Your Mind". I set it aside for my bedtime reading and proceeded to do my other tasks.

This morning I was finally able to flip through it and gosh! there were a lot of interesting topics there too! The article "Help! I've lost my focus" written by Claudia Wallis and Sonia Steptoe really got me going. It was a look into a typical day in the life of Hollywood producer Jennifer Klein. I found a lot of things we have in common and I'm sure a lot of mothers and fathers out there could relate as well.

Here is a view of my typical work-day:

@ 5:30am - Open the water pump and get the hot water running. Hurry back to bed and catch another 30 minutes sleep.
@ 6:15am - Wake up! Kiss hubby good morning to wake him up and go over to my daughter's bed and kiss her good morning too. Dash downstairs fix breakfast, arrange the kids' sandwiches and drinks and also sandwiches for hubby and myself (no breakfast for me @ home since there's not much time)
@ 6:45am - Take a quick shower! Usher my sleepy daughter into the bathroom to give her a bath (it's quicker that way) and get her ready for school. Yes, she has a nanny but this is something I wanted to do for my daughter since I won't be with her the whole day. (I guess I wanted her to remember that her mom is here for her no matter how busy she is.)
@ 7:00am - Turn my daughter over to her nanny to have some breakfast. Again, dash upstairs fix the beds, take out my clothes from the closet and lay hubby's clothes in the bed too. Then as quickly as I can, get dressed, grab my youngest daughter's things for school. Bark out instructions to my nanny for my daughters' lunch and dinner and schedule at school. And then rush off for the office.
@ 8:30am to 5:30pm - Gulp down my coffee and sandwich in my work area (that is if I'm lucky and not called into a meeting). And gosh, I cannot even begin to describe how my day goes by in the office. It is sometimes a blur to me.
It is mostly spent answering e-mails, talking to angry clients and agents, editing letters, signing this and that, negotiating at meetings, mentoring my staff, checking and monitoring if all is going well as scheduled, talking to my boss, meeting with people from other departments regarding on-going projects. Call my mom and my nanny to check on the kids. Call my hubby, just to say hello and "I love you" (need to hear that everyday so I can survive the rest of the afternoon). And yes, manage to squeeze in lunch and another coffee break in the afternoon. And then the whole thing starts all over again.
Ahhh, they say that is a life of a multi-tasker and yes we parents are jugglers in our own little way. In the same article I also found psychiatrist Edward Hallowell's "A Multitasker's Glossary" very interesting. Here are four new words I learned from him.
screen sucking - wasting time online long after you have finished what you signed on to do.
frazzing - frantic, ineffective multitasking, typically with the delusion that you are getting a lot done. The quality of the work, however, is poor.
pizzled - how you feel, when someone you're with pulls out a cell phone or BlackBerry and uses it without an explanation or apology. A cross between p___ off and puzzled.
doomdart - the internal distraction of a forgotten task that pops into your mind when you are doing something else. A side effect of frazzing.
Staying focused on one thing at a time is something we parents, especially working moms, find very hard to do. That is why I think it is very important to have time away or even down times at work to renew and recharge oneself, otherwise we might end up burned out and too busy for our family. The reason why we are working so hard in the first place.
"Time is free, but it's priceless. You can't own it, but you can use it. You can't keep it, but you can spend it. Once you've lost it you can never get it back." ~ Harvey MacKay
So, let's spend it wisely!