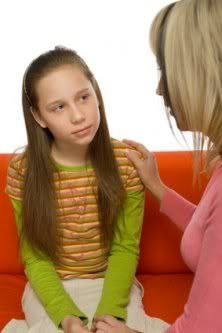 A suburban mother's role is to deliver children obstetrically once and by car forever after.
~ Peter De Vries
Okay, so I guess it's inevitable and yup the moment finally came. I felt all gooey and antsy inside. It felt like a million butterflies suddenly decided to take up a rent-controlled lease at the upper east-side of my tummy. Did I look green? Probably. Were my palms sweaty? Leaking, dear. Can I do it? Doubt it. Should I? There is no better time than the here and now. Was I going to faint? Ahhh, most likely. It felt like I was going to deliver the most important speech of my life and dear me, I think I'm going to puke!
It was the moment moms and dads are dreading. It was time to talk the talk. About the birds and the bees and
err
if kissing could make you cough up babies. My nine-year-old daughter was looking at me strangely with raised brows, as if saying, "Well?". I swallowed hard.
I remembered the very same talk I had with my mom way back then. I thought she was going to faint too! She looked so uncomfortable and green that I wanted to spare her the trouble. You see for the longest time I thought I was err a-sexual (neither a boy nor a girl) but my mom thought it was time for me to realize that I was different from my brother and cousins. And that it was not appropriate for girls to outrun the male members of my family in a race and that it was totally unbecoming of a young lady to be better in skateboard and go-carts and yup even archery! No no no! It just wasn't done.
So I had to sweat it out in that wooden chair while my mom, struggled, ever so poorly to explain to me the wonders of the female body. When I told her, " I got it covered mom, you don't have to tell me anymore." She looked relieved and yes dear folks, scared! I looked at her eyes and read her every thought. How come she knows already? Who taught her? Does she--? Did she--? LOL! And before she suffers a heart attack, I told her "Mom, our science teacher told us about it. Don't worry I'm cool with it." It was only then that she breathed a sigh of relief. "Well okay, just let me know if you have any questions okay dear?". She kissed my forehead and ruffled my long black hair. Ahhh it was over.
"Mom?" my daughter's voice brought me out of my reverie. Here goes nothing! So I proceeded to tell her about er the wonders of the female body and her eyes were growing bigger by the moment. Nope, I did not tell her specifics. I just told her how to take better care of herself in case the time comes. And as I was talking to her, in a level that she will understand I begin to feel comfortable. My great love for her, took over. I wanted her to know as much as her little nine-year-old mind could fathom because I wanted her to be safe and ready for anything. Armed with information, well not too much information, but valuable ones. It was done I made it! LOL! And I did not faint.
I hugged her tight and she hugged me back. Awwwww! My little girl is growing into a young lady. And all of a sudden I feel sooooooo old and ancient.
A little girl was asked where her home was, she replied, "where mother is."
~ Keith L. Brooks
I love you mom!