It's 2:44am. I have been tossing and turning in my hotel bed for the past four hours. I have been sitting up, fluffing my pillows, pulling up the bedsheets, pulling down the bedsheets, getting into various angles and position but I just can't seem to find the perfect spot. It's not happening. Arrrggggh I give up! I just can't sleep. Why oh why didn't I bring my laptop with me? I am soooooo longing to be in my bed right now. I miss my disorganized room, those familiar homey sounds, I miss my daughters, I miss my honey, I miss home.
I stood outside the small verandah in my room overlooking the streets. The city looked quiet and sleepy. Boy! how I long to be asleep myself. Maybe it was the capuccino I had earlier in the evening at Candy's Resto. As pretty and huge as my hotel room may seem, it only makes me long more and more to be in mine (sigh). It's hard enough being away from my kids over night and since my flight was cancelled due to bad weather I had to stay here another day. Poof! Don't get me wrong this is not really a bad place to be. On the contrary it was surprisingly a very happening place.
I had the best two nights in the city. The first night our host took us out to dinner at this place called
Sentro 1850
. It was a cozy restaurant, nice ambience and the food was delicious! Not to mention affordable too! I felt bad not having brought any camera with me and I was a little too shy to take pics of our food for my blog using my cellphone. I ordered this shrimp chili pasta and I loved it! They had huge servings. We also had baked mussels with melted cheese on top, crunchy squid and this huge crab salad with mango and wasabe dressing. After that, we were taken to
Cafe Berde at the Mallberry Suites
, I had espresso macchiato con tsokolate. It was simply the best!
Espresso Macchiato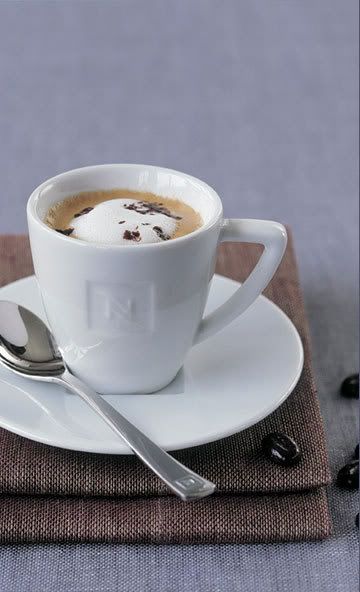 Crab Salad in Wasabe Dressing
On the second day, since our flight was cancelled we had to stay in our branch office and become useful and err productive. We were not on vacation and having our flight cancelled does not give us the liberty to become tourists. We were there to work. But when the evening came it was time to have fun again. We were again invited for dinner. We had a great time at this chinese restaurant called East Wok, eat-all-you can chinese cuisine and then we had dessert and coffee at Candy's. I had this most delicious capuccino with a dash of cinnamon and this amazing cake called Tartufo - the outer part was chocolate and inside there was ice cream and nuts. Heaven was all I can recall feeling and tasting. Here are some pics I got from the web as I was not able to take some of my own.
Tartufo
Capuccino with a dash of cinammon

Apart from missing my family sooo sooo much it was not such a bad time to be away from home.
"To get away from one's working environment is, in a sense, to get away from one's self; and this is often the chief advantage of travel and change."
~ Charles Horton Cooley