I had a pretty wicked week! Well, almost. Today is Thursday so there's another day left in my work-week and who knows what Friday brings. Hopefully, some good times. I am keeping my fingers crossed that it won't be as hectic as the last few days.
I have not been able to create any articles in the past few days because I have been very busy at work. When I get home all I want to do is sleep. I find myself dozing off on top of my laptop while surfing the net at night, haha.
At 5:30pm this afternoon, got a call from hubby. He says, "want to watch a movie tonight, I had a bad day today I want to unwind." It looks like I'm not the only one having manic days at work in our family. I had visions of myself going home early today and being with the kids as I have been spending extra hours in the office. They're already sleeping when I get home =(. But I know that hubby needed a break too, so I made suggestions to do somethingelse. He suggested coffee and I agreed. I have been craving for a hot caramel macchiato anyway. We went to our favorite Starbucks branch in Intramuros.


Intramuros is famous for it's rich history. Intramuros' means 'inside the walls'. The Starbucks here is quite different from the usual stores around the metropolis, because it was placed inside one of the bulwarks used by the government during the war. Got some pics from the net so I can show you how it looks like, click the pics for a bigger view.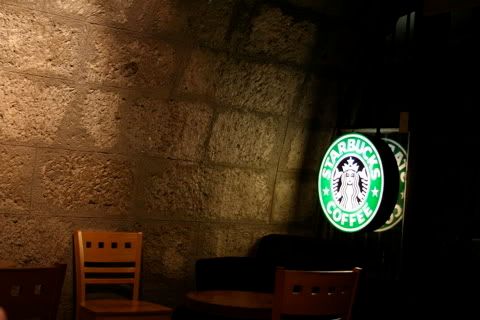 Hubby and I just sat there. Contentedly sipping our macchiatos and taking small bites of those yummy Belgian waffles (as shown below) and of course my potato chips in yogart and sour cream flavor. Ahhh, that was heavenly.


At the moment life feels good again... one coffee at a time.