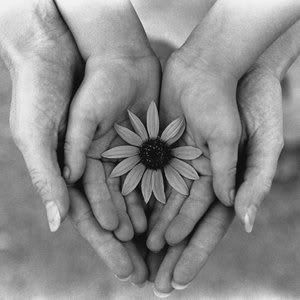 I have been tagged by my good friend
Jackie
author of
The Painted Veil
to name three things in my life that I cannot let go of.
Here's my list:
1)
MY LOVE FOR GOD
- I cannot even begin to describe how important my faith and my love for God is. All I can say is I am nothing without Him.
2)
MY FAMILY
- I was often asked where do you keep your valuables? What bank do you invest in? What do you think would be the best place to invest your time and money in? My answer would always be...

MY FAMILY

.
And the people asking me would say, "What? Aren't they cost centers not investments?" And I would reply , "Can any bank guarantee unconditional love, 24-7 love on call, high-interest yield without putting any money in - as long as you put in a lot of time and love on a regular basis?" They would be shaking their heads. "There you go", I would say. My family is my greatest wealth. When I have my family's love and support on my side I feel like I can do anything.
3)
BLOGGING
- Blogging has been a tremendous help to me, it has been therapeutic. Through blogging I was able to express myself and meet new friends that I could build lasting friendships with.
Now I would love to hear from my three new friends here in the blogosphere. What is it that you cannot let go of?
Sameera
Peachy
Ricca
I would like to end this post with a lovely message I received last week.
God is at work in your life
even when you do not recognize it or understand it.
But it's much easier and profitable when you cooperate with Him.
"Success can be measured not only in achievements, but in lessons learned,
lives touched and moments shared along the way"

LIFE IS AN ECHO. What you send out, you get back.
What you give, you receive.
WHEN YOU BRING OUT THE BEST IN OTHERS, YOU BRING OUT THE BEST IN YOURSELF.