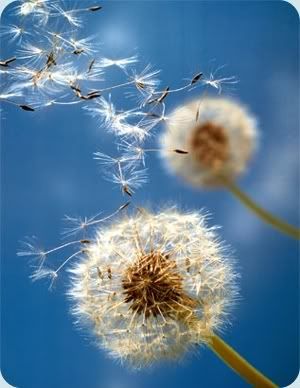 Last night I couldn't sleep. Although my body was screaming for it, my mind was unfortunately wide awake. Everyone was sleeping except me. I turned on the television and did not have any luck with any good movies. I was absentmindedly flicking through the channels when I accidentally ran into a local program featuring a young girl aged 12 with cancer.
Her family was poor, they cannot afford to bring her to the hospital for treatment. They barely had money for food. Her five other siblings, all under the age of 15 were all working together with their parents just to get by each day. Everyday she was left alone at the house, thinking crazy thoughts, feeling pity for herself. She was thin but her stomach was bulging with this strange cancer. All she wanted was to go to school and finish her studies. All she wanted was something to do besides waiting...waiting for death to claim her. I did not realize that tears were streaming down my eyes.
The other day my husband was telling me about a little girl, aged 8 who committed suicide. I was shocked at how young the girl was and wondered what compelled such an innocent child to want to die rather than live? A diary was found by the family and it was a sort of a "goodbye" note from her. She wrote there that if she died her parents would have one less mouth to feed, they won't work so hard anymore.
I thought about my little girls aged 8 and 4. They are so innocent about the harshness of life. They were never exposed to it. They never knew what it felt like not to eat three times a day. They never knew what it feels like not having a roof under their heads each night. My husband and I made sure that their future is secured. But nonetheless, I could not stop thinking about those girls, those innocent little children who should be playing with dollies and robots. They have sacrificed so much, even their lives for their family. I am appalled that they have to carry such burdens at such a young age.
It was a simple enough wish. To have something to live for. To have a decent life. To have some food to eat. To have a bed to sleep in comfortably each night. But sadly, an elusive dream.
I guess, in that brief moment God was teaching to me to be always thankful for all that I have. Our house is undergoing some renovations, I've had the chance to find old clothes and a some good toys that my kids are not playing with anymore. I talked to them about giving it to some street kids. At first there was resistance but as I told them the story of those two little girls they were silent and agreed to give their old clothes and toys. They also wanted to take part in the giving. I wanted my kids also to know that there is joy in giving as well as receiving.
The opposite of love is not hate, it's indifference.
The opposite of art is not ugliness, it's indifference.
The opposite of faith is not heresy, it's indifference.
And the opposite of life is not death, it's indifference.
~ Elie Wiesel