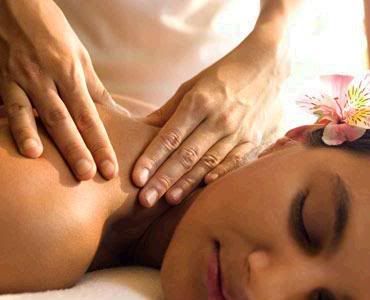 On the day of our anniversary hubby and I spent a lazy day together. In the afternoon we went to this spa to have a full body massage. It was a choice between a Manhattan, a Bronx and a Hawaiian massage. I chose the Hawaiian. It was a soft massage with a lot of oil and will concentrate mostly on the back and shoulder area. OMG! It felt sooooo good. I've had many massages before but this one was topping the charts. Now that's what I call bliss.
The woman who was giving me the massage seemed to know where everything ached and knew just how to attack it. With each stroke of her hands she removed the stress I felt when I talked to that very hard-to-please client and when she pressed my back she took away the strain in my neck as I was bent over my computer concentrating on finishing my reports, memos and e-mails. I was half-awake and half-asleep all through it all. I never wanted it to end.
I don't know what it did to my body but after that massage I seem to want to sleep all the time. Whenever my back touched my bed it's as if my body is in auto-shut off. Amazing! This surprises me because I am a late sleeper. My usual sleeping time is around 12:00am or if I'm reading a really good book 2:00am. I did not have that much time to blog and visit your sites. At night I was off to dreamland as soon as I enter our room.
I suddenly thought God was like a masseur in our lives. With each stroke of His hand He takes away our problems and pains. Each time we feel better and lighter. We entrust ourselves to Him and let Him shape us into His image and likeness.
I think each one of us deserves a moment like this. We need pampering, we need someone to take over our fears and tell us all will be well. Yes we are strong and yes we know we can take care of ourselves. But don't we all need someone to lean on, someone to smooth away the aches and pains of our soul? And guess what? We don't have to go far to get it, we don't even have to pay. It's free! He's just a breathe away...for those who have faith.
"Where there is FAITH, there is LOVE; Where there is LOVE; there is PEACE; Where there is PEACE; there is GOD; Where there is GOD; there is BLISS." ~
Sri Sathya Sai Baba