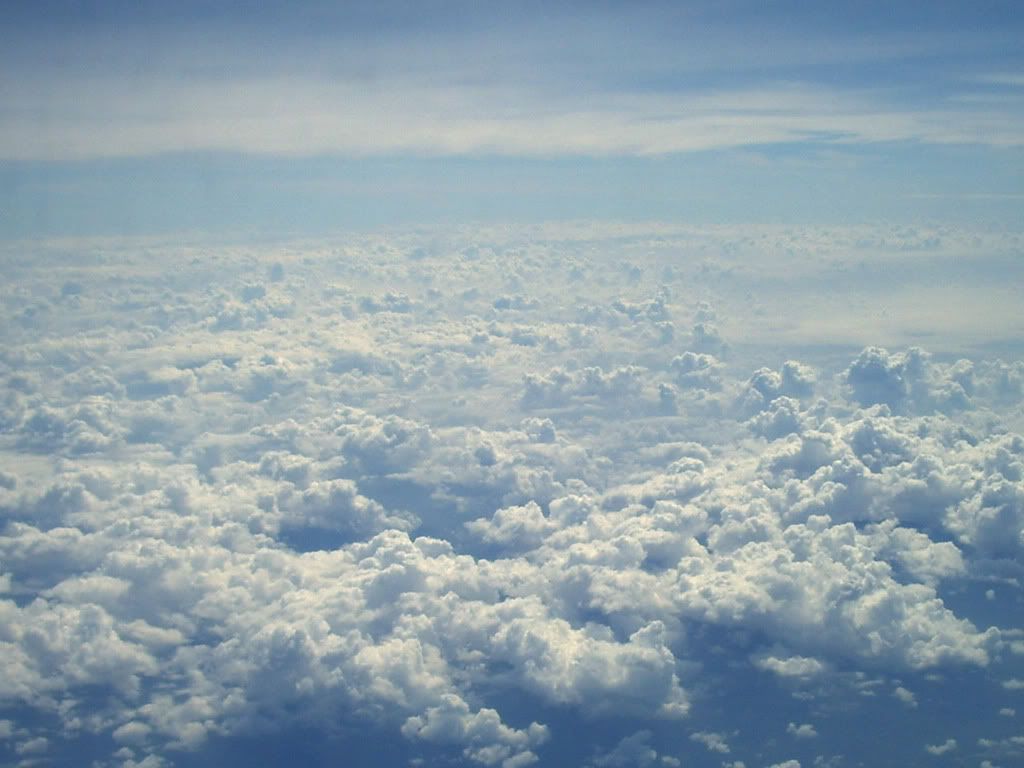 I spent most of my day yesterday in two airports.
I woke up at 1:30am to get ready for my 4:30am flight to
Cebu
. Hubby wasn't all too happy to wake up and drive me there but he was worried about me taking the cab all by myself in that un-godly hour. When hubby dropped me off at the lobby, I kissed this sleepy man goodbye and then met my officemate and we checked in together. I saw a lot of sleeping people and wished I could too. First things first I bought two steaming brewed coffee to boost our spirits.
The flight was uneventful, except for an elderly needing some oxygen. I was half-awake and half-asleep all throughtout the flight. Everytime I fly I want to seat by the window and just stare at the clouds. They were fluffly blue and so much like cotton-candy. I imagined I was sitting on one of them, looking down on what's going on in the earth below.
After our training we headed straight to the local supermarket to buy some "pasalubongs" (tagalog for presents for our family and colleagues back home). We had about one to two hours before we go to the airport again for our afternoon flights. We had lunch at a local restaurant called Golden Cowrie. We ordered tuna fingers and this super tasty baked scallops with cheese on top! It was awesome and to our great surprise very very affordable.

By 2:30pm we were again headed to the airport and were checked in before 3:00pm. My colleague was going to our other branch office in Davao and so I was to head back to Manila alone. He had an earlier flight and so I was left alone in the waiting area for about one-and-a-half hour to wait for my flight. I wanted to fall asleep but I was a little wary of strangers and looking vulnerable being female and alone in the airport. Thank God for technology and the good book I brought along with me...I did not really noticed the time.

I was reading Paulo Coelho's book called Like a Flowing River. It was a collection of short inspiring stories. I particularly liked the poem by Manuel Bandeira.

Be like the flowing river,
Silent in the night.
Be not afraid of the dark.
If there are stars in the sky, reflect them back.
If there are clouds in the sky,
Remember, clouds, like the river, are water,
So gladly reflect them too,
In your own tranquil depths.

a beautiful poem and a beautiful book. God bless everyone!