I had a long day at work today. i had 3 meetings in the morning which finished by lunch time. Me and my friends had lunch at Yellow Cab Pizza Co. We had the New York's Finest pizza and a Charlie Chan Chicken Pasta. that meal was heavenly. when i got back i made some phone calls, signed several letters and documents and attended another meeting. As the end of the day drew near i couldn't help but do a bit of clock-watching. ahh 30 minutes more and i'm outta here!
i won't report for work tomorrow to get my daughter's report card in school, so i had to finish the reports due tomorrow. I signed more documents and letters after the meeting and I felt my eyes were starting to hurt a bit. ahhh it was nerve-wracking! Ack! A few more minutes till i go home, i consoled myself.
I rested my back for awhile and made a mental note that i needed to be home by 8pm. I decided to spend some precious seconds to read some of my "non-office related" e-mails. otherwise known as, junk mails. I came across this one and it made me laugh out loud. hope it makes your day too!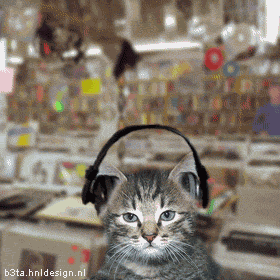 Cat listening to Stevie Wonder