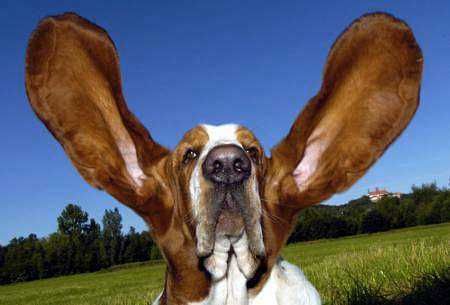 History repeats itself because no one listens the first time.
— Anonymous
I was not really feeling well today so I asked my friend if we could have lunch somewhere so I could sip some hot soup.
Lunch went on pretty well and I had a nice hot congee. We asked for the bill and the waitress came back to give it to me. Noticed that both our meals were punched twice, I called the waiter and informed him of the error. He went to the cashier and I assumed he asked for the bill to be corrected. Another waiter comes to our table to give us the bill. I checked it and was surprised to see that nothing was changed. I was getting annoyed about it but since I do not have the energy to argue, I told him 'again' of the error. A waitress comes back to us with "the bill" and to my utter disbelief it was the same one! I almost screamed with frustration.
Listening is a gift. We hear the words being said but we may not really understand what it means because we are not really listening.
Definition:

[verb]
hear with intention
;
[verb]
listen and pay attention
;
Synonyms: hear, take heed


[verb] pay close attention to; give heed to;
Synonyms: heed, mind


Do you remember the days when you were interested in someone? Whether romantically or you just find this person has something important to say. Don't you remember hanging on to his or her every word? In the company I work for, all employees are required to attend a seminar called Five Star Customer Service before he or she reports to their post. It's a two-day seminar about listening and understanding your customer's needs. Even people from the top management are required to go through that. And I think it's a great help to our organization.

Most of my friends tells me I am a good listener. I asked them how I merited such a title? They told me I allow them to say what they wanted and needed to say without interrupting them with my ideas and my views, I let them finish what they had to say.

Listening, really listening for me is clearing your mind from all it's clutter and letting the words sink in, digesting its meaning and letting it seep into your heart. Try it, you'd be surprise to know that you've been speaking the same language after all. The language of the heart. =)

Here are some funny quotes about listening, thought I'd share it with you.

@@@

Conversation: a vocal competition in which the one who is catching his breath is called the listener
@@@
"You know, it's at times like this when I'm trapped in a Vogon airlock with a man from Betelgeuse and about to die of asphyxiation in deep space that I really wish I'd listened to what my mother told me when I was young!" "Why, what did she tell you?" "I don't know, I didn't listen!" — Douglas Adams
@@@
My wife says I never listen to her. At least I think that's what she said. — Anonymous
@@@

If you want your spouse to listen and pay strict attention to every word you say, talk in your sleep.— Anonymous
@@@
It's my job to talk and yours to listen, but please, let me know if you finish before I do. — Anonymous
@@@

Women like silent men. They think they're listening. — Marcel Archard
@@@
The older I grow the more I listen to people who don't talk much. — Germain G. Glien
@@@
And my personal favorite: One advantage of talking to yourself is that you know at least somebody's listening. — Franklin P. Jones
If I read your articles that means I'm listening. =) Happy blogging people!