For many days I've been wondering how I can pay tribute to the most influential man in my life and I can't seem to find words to best describe him. I have thought hard and I have searched hard...all I came up with so far is a song. A song I remember him singing to me when I was a child. It's a song from the West Side Story. And whenever I hear this I would always remember
my dad
.
There's a place for us,
Somewhere a place for us.
Peace and quiet and open air
Wait for us Somewhere.
There's a time for us,
Some day a time for us,
Time together with time spare,
Time to learn, time to care,
Some day!
Somewhere.
We'll find a new way of living,
We'll find a way of forgiving
Somewhere . . .
There's a place for us,
A time and place for us.
Hold my hand and we're halfway there.
Hold my hand and I'll take you there
Somehow,
Some day,
Somewhere!
A man is loved not for how tall he stands but for how often he bends to help, comfort and teach.
Tay,
When I was a child I used to wonder why you always had long and outstretched arms, I thought it looked funny then, now I know that those arms would always be there to comfort me when I'm sad and hug me when I fall.
When I was a child I used to wonder how tall you looked from where I was standing, I thought you looked like a tree, now I know that those shoulders were made strong so that you can lift me up high and I'd feel as if I could almost touch the sky.
You were always eager to listen to everything I said and as small as I am then, you made me feel like I was six feet tall. You always made me feel important. No matter how small I was, my opinion always counted.
And when I was talking about my dreams, you always made me feel like I could do anything I set my mind to. You never told me I couldn't, you always said everything was possible, if I prayed for it.
I remember a time when you couldn't give me something I asked for, I was crying in my sleep. You sat by the bedside brushing aside my hair to show my face and you dried every tear with your knuckles and you whispered to my ear, "do not cry my love, hush now, i will buy it tomorrow." I know it was probably out of your budget but you always did what you promised. And that's how I know that I can trust you, you have not broken any promises.
I could not have asked for a better father than you.
We have been through a lot but you have always come out strong, always hopeful and trusting in God's plan. It is through you that I learned the power of prayer. And that hope is something everybody needs to get by.
We may not always be together but you are always in my heart. Our hearts. There is never a day that passes that I do not wish for your safety and happiness.
Thank you so much for your love. It is your love that helped me grow into a loving and God-fearing person. I hope I can be even half of the parent you were to us.
Today I want you to see how beautiful you are through my eyes.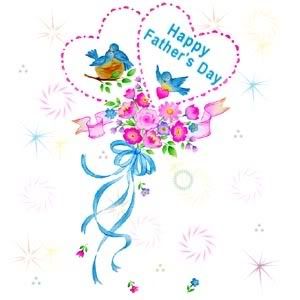 I LOVE YOU DAD!